Several employees were recognized for their years of service and attendance at the district's year-end gathering on Tuesday. Two new retirees were also recognized, each with over two decades at Crestview.
One Year of Service
Ethan Bedocs
Lori Cadle
Makenna Case
Kylee Deppert
Sara Ebershole
Allison Grau
Nathan Godsey
Jami Harley
Jessica Henry
Christina Kelley
Brian Kinnard
Robin Klenk

Kortney Kohler
Abbey Korbas
Ann Logan
Kayla Marshall
Jessica Miller
Destini Oler
Ashley Pirc
Andrew Platt
Michael Pond
Sarah Powell
Katelyn Pugh
Jan Robertson
Joni Robson
Misty Santarossa
Shawn Skelly
Anna Stimpert
Grant Sproull
Heidi VanPelt
Andrea Walter
Madison White
Carissa Whitmer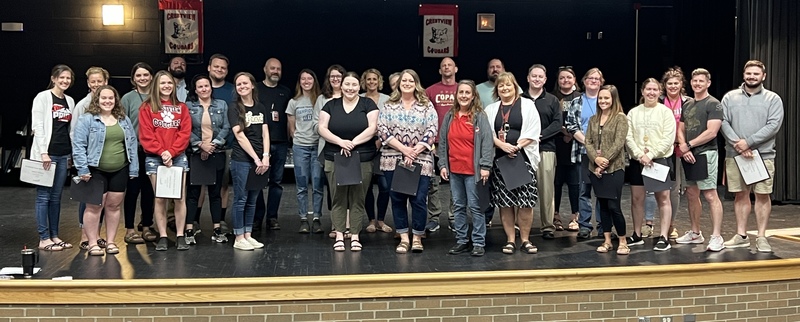 Five Years of Service
Angela Fennewald
Janet Nelson
Cheryl Hicks
Devyn Renninger
Stefanie Hunn
Erica Rucker
Richard Lyon
Heidi Zucker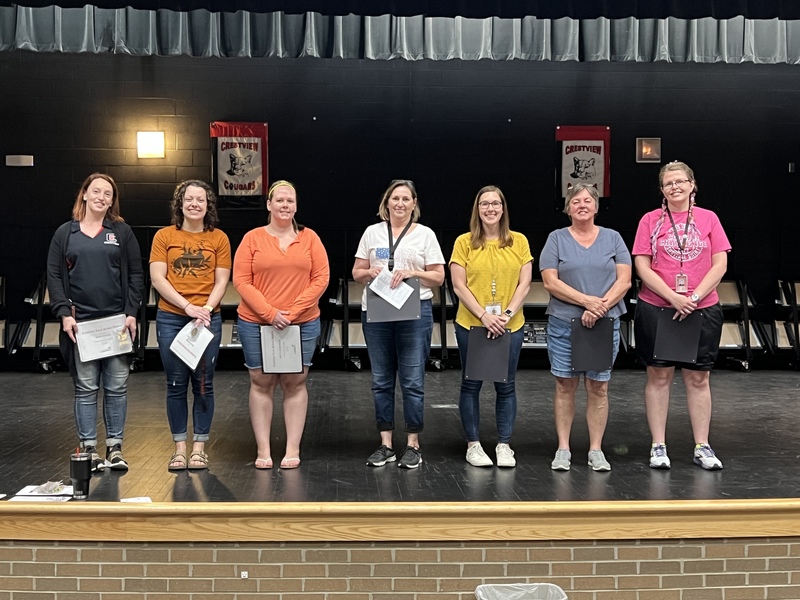 Ten Years of Service
Kelsy Arnold
Ryan McClenathan
George Barley
Christy Walter
Fifteen Years of Service
Amy Bays
Tracey Chacey
Stacy Campbell
Ashley Cornell
Twenty Years of Service
Larry Barnes
Kim Ison
Molly Henderson
Mindy McPherran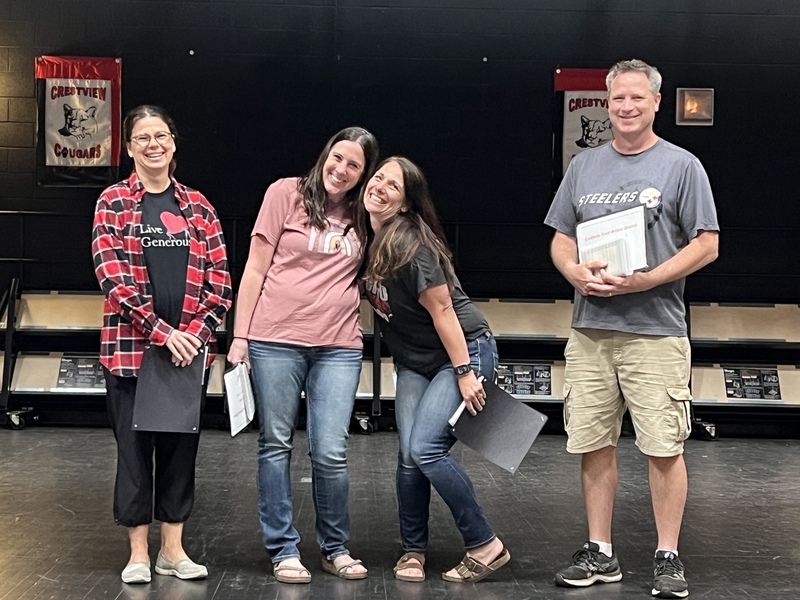 Twenty-Five Years of Service
Scott Amburgey
Kristi Barker
Brenda Metz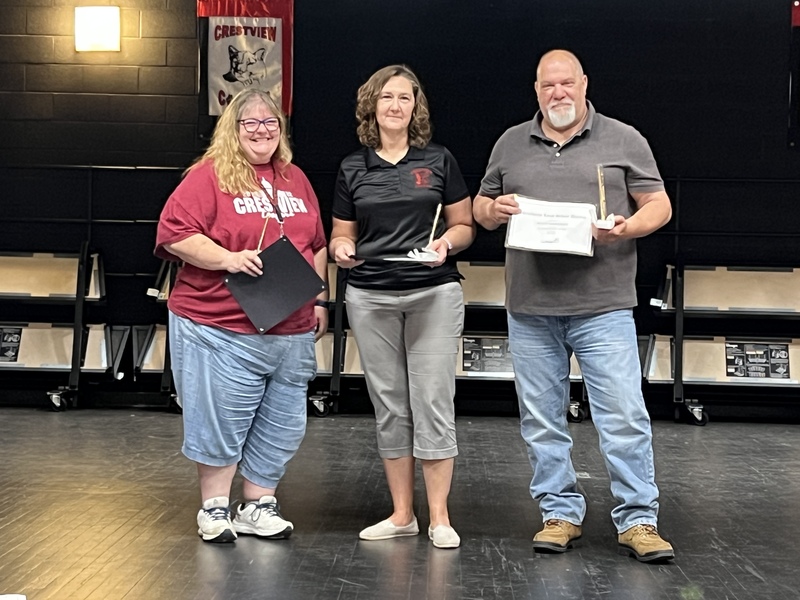 Perfect Attendance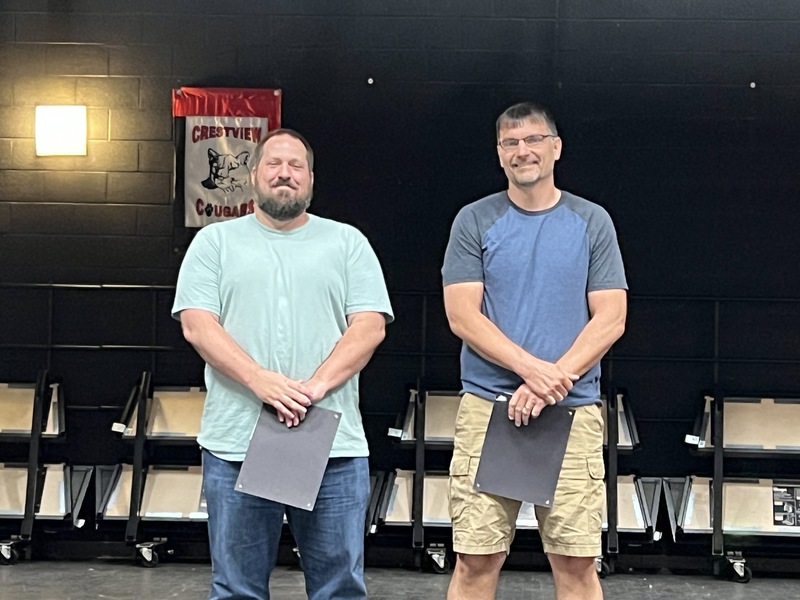 Retirements
Mrs. Kathy Vanderpool - 21 Years (2001-2022)
Kathy officially started working for Crestview in January 2001 where she was hired as evening cleaning personnel; however, she also substituted for the schools beginning in 2000. Kathy retired at the end of December 2022.
Kathy is blessed with one daughter, Krystal, who is a 2002 Crestview graduate and now works at Crestview Middle School as the library media aide. She also has two grandchildren: Keith, sophomore, and Kathryn, freshman, that currently attend Crestview schools.
Kathy states some of her favorite memories are all of the friendships that I had, summer cleaning with Cherie Free and all of the other teachers that I suckered into cleaning! Also, the time that Amy Bays actually thought we were putting up a shower curtain for the door on the staff restroom!
Her retirement plans include going to her grandchildren's sporting events and activities, spending time with family, friends and traveling.
Thank you, Kathy, for your dedication and service to the students and staff at Crestview Local School District. We have missed you and wish you a restful and fulfilled retirement.
Pictured below, Krystal, and coworker, Pam Conn, pose with Kathy's partner in early morning mischief, Earl the Prize Guy.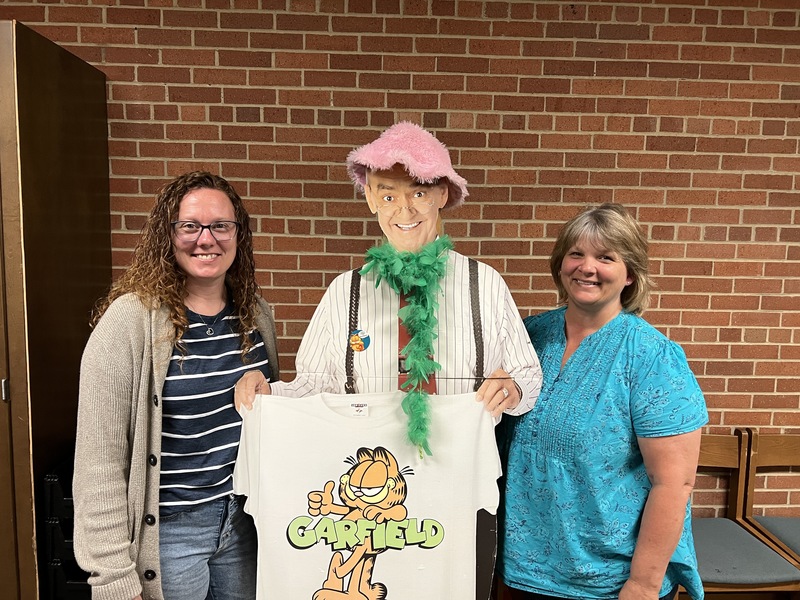 Deb Squires - 26 Years (1997-2023)
Deb started working for Crestview in 1997 where she began as a bus driver in the transportation department.
Deb is blessed with one son, Nathan Milligan, and three daughters: Jessica Gribben, Katie Carns, Samantha Klupp. She has fourteen grandchildren: (six girls) Kat, Eva, Macy, Raya, Tilly and Aylin and (eight boys) Tyler, Colin, Dillon, Jacob, Henry, Arda, Owen and Carson.
When asked what imprint she will leave at Crestview she mentioned, "I hope it was a good one, I have strived to do my best, safely while managing a big bus with lots of kiddos. They have left their imprint on my heart. All of the various personalities I have had the privilege of knowing and interacting with over the years are precious memories to see me into my old age! I will miss them and my coworkers! This school and all of the people I have met here will be remembered and prayed for as often as they come to mind!"
Deb's retirement plans include spending as much time as possible with my remaining siblings, my wonderful hubby, Jon, and precious children and grandchildren.
Thank you, Deb, for your dedication and service to the students and staff at Crestview Local School District. You will be missed among the transportation staff next year. We wish you a restful and fulfilled retirement!
Deb is pictured with family members who joined her for the morning's retirement recognition.